I have to start out by saying that what you are seeing is an experiment on my iPad using a mobile blog app called BlogPress. I have absolutely no idea if it will satisfy my design sensibilities or if I will have to relearn something new in order to make it work. So, anyway, here it goes...
The first thing we noticed when we arrived in Whitefish was that there is still an amazing amount of snow in the mountains. Usually when we get here at the end of June only the highest peaks in Glacier have that white top appearance.
This picture is of downtown Whitefish and you can see the snow still at the peak.
Over the weekend I had to see how high the Flathead River was flowing considering the fact that the snow is still on the mountains and predictions that they were going to be high for a while. As you look at some of my pictures you can see that the river is really gushing -- muddy and WAY too high to even think about fishing. The lakes are my best hope for now!
July 1, 2, and 3 there was an Art Show and sale in Depot Park. There was the usual mix of arts and crafts, most of which were uninspiring. There is always a good mix of bright color, a few interesting works of art and, certainly a scattering of unusual characters. The most interesting to me was Plein Art art by an artist who displayed some very well done landscapes from Glacier Nation Park(GNP). So enjoy a small montage of this colorful event.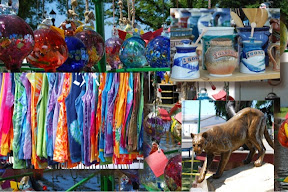 - Posted from my iPad